Aladdin (Cambridge Arts Theatre)
"If you only see one pantomime this year make sure it's Aladdin at the Cambridge Arts Theatre. This year's pantomime really is the best we've seen".
Cambridge Times
"One of the best pantomimes we've ever seen"
Ely Standard
"Highly professional family entertainment at its very best"
Cambridge Edition
Sleeping Beauty (Rhyl Pavilion Theatre)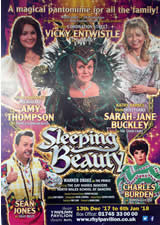 "This brilliant show is packed with local jokes, slapstick fun and top level action"

"Magical masterpiece…….all the ingredients for a fantastic tale"
Daily Post
Star rating: ******
I've seen more than my fair share of Pantomimes this season – oh yes I have! I'm having a ball and I've liberally dished out the stars which have been richly deserved. However, I have found one which deserves more than five stars, and that's Sleeping Beauty which is gracing the stage of Rhyl Pavilion Theatre.
I couldn't find fault with this stunning spectacle if I tried and there's not one weak link amongst an exceptional cast who each play a full role in the show. Unlike many shows I've seen before where a Fairy might only be seen for a few key scenes and a King would appear a handful of times – every character is at the hub of the perfectly paced production.
There's a fantastic mixture of musical numbers and with Sarah Jane Buckley as Fairy Snowflake, Vicky Entwistle as Carabosse and Amy Thompson as Sleeping Beauty herself, at the helm, musically the show is already in superb hands. All three female leads have stunning vocal capability which they demonstrate to the maximum. Add Sean Jones to the mix as the hilarious Silly Billy and Chris Warner Drake as the Prince and the performance level is taken to another dimension. With Charles Burden as Nanny Glucose bringing a wealth of experience to the show and Sam Patrick making an excellent Pantomime debut.
The combination of modern material blended with traditional madcap pantomime high-jinx delighted the packed house and truly makes this a pantomime with something for everyone. Family orientated with jokes for adults and the smaller members of the audience.
The scenery is quite something, providing an elaborate backdrop fitting for the fairy tale. There are a few special effects which I won't spoil, however the quality of the content means that effects are merely a bonus feature. Magic is created by every actor on stage who are each giving 110% to make this a pantomime de force.
The opportunities for audience participation are plentiful, the fourth wall is smashed, just as it should be. Sean Jones is nothing short of a comedy genius and his natural talent is reminiscent of the comedy heroes I grew up watching. Charles Burden's Nanny Glucose is an able sidekick for Billy, a traditional Dame indeed with many quick changes and a superb range of costumes. Chris Warner Drake played the Prince as a solid, dependable hero and he was a perfect match for Amy Thompson as the gentile and beautiful Princess. I've seen Thompson as Sleeping Beauty previously and she never fails to impress me, she is one of the finest Pantomime Princesses I've seen. Vicky Entwistle as Carabosse was a revelation to me, such a seething, feisty and fiery baddie – Entwistle embraces the role and gave an outstanding performance. As for Sarah-Jane Buckley, she's the epitome of magic, sparkle and silliness. She's glitzy, glittery and also offers precise comic timing and a West Country accent! The best Fairy in Panto-land, in my humble opinion.
If you're in need of a post-Christmas pick-me-up then this seaside extravaganza is just the ticket and you've got just over a week to see it.
Break A Leg
https://breakaleg.biz/2017/12/28/sleeping-beauty-rhyl-pavilion-theatre/
Dick Whitington and His Cat
"There is a comfortable familiar feel to the top-of-the-range production standards, with writer/director Phil Clark making sure that his 11th successive panto sticks strictly to the rags-to-riches. **** Four stars"
The Stage
"Thanks to a perfect cast, brilliant live music, impressive set and wonderful ensemble dance routines- Dick Whittington is nothing short of another smash-hit show for veteran director Phil Clark"
So Glos
"Tears of laughter, rauvous booing and booing along with the cast- Ďick Whittington ticked all the boxes of a traditional Pantomime and had the extra sparkle that makes the Everyman's seasonal production so very special and a truly unmissable event"
So Glos
"If you're looking for a night of non-stop family fun you'll need to go a long way to find better than Dick Whittington at the Everyman Cheltenham"
Cheltenham Echo
The Man Upstairs
"Phil Clark balances the interleaved tension and comedic moments well"
Jack and The Beanstalk
"Panto season is upon us and yet again the Everyman Theatre have delivered a fantastic family friendly festive event.
Explore Gloucestershire"
"Jack and The Beanstalk is a huge success, big on laughs, big on singing and dancing, and has a brilliant 21st century giant ominously stalking the stage."
Gloucestershire Live
"Everyman Theatre's most gigantic pantomime yet offered larger than life sets, dazzling costumes, and sensational musical numbers, transporting audiences from the streets of Cheltenhamville to Blunderbore's lair in the clouds, before returning to a majestic castle to finish in glittering style."
So Glos
Peter Pan
"Peter Pan at Rhyl Pavilion Theatre has everything – swashbuckling fun from actors revelling in their roles, brilliant pace and musical score, stunning sets, compelling visual effects which transport you over London rooftops, and colourful costumes, plus a hero to cheer – what more could you want to get you in the festive mood."
Rhyl, Prestatyn and Abergele Journal
Murder By The Book
"Phil Clark directs a fine cast……..highly recommended production."
Eastern Daily Press
The Old Country
"This smart, atmospheric production directed with sensitivity and flair by Phil Clark resonates in these post Brexit times as it shines a light on class, sex, politics and power"
Theatre Bubble
Cinderella (Pavillion Theatre, Rhyl)
"Pacey and Lively with plenty of 2015 references to celebrities, shops and the local area Phil Clark's direction and the spectacular scenes were eye catching and include live Shetland ponies and ensured the audience was always engaged and often participating"
North Wales Daily Post
"Phil Clark the director of Cinderella has brought us a pantomime that so many people will remember for years to come"
Rhyl. Prestatyn & Abergele Journal
Cinderella (Everyman Theatre, Cheltenham)
"Phil Clark's pantomimes at the Everyman in Cheltenham are becoming a bit of an institution"
"This year's show is more lavish than ever"
"If you crave a good, old-fashioned Christmas show, then Phil Clark's Cinderella is just that"
Stagetalk Magazine
"Complete with stunning sets, colourful costumes, fabulous songs, a happily ever after and plenty of silly fun from Tweedy, the Cinderella pantomime brought lashings of festive magic to the Everyman Theatre stage"
"Encompassing everything that is great about pantomime, make the Everyman Theatre's Cinderella top of your festive Gloucestershire bucket list"
So Glos
"Putting their own spin on the classic Cinderella story, the Everyman Theatre's 2015 pantomime wowed audiences both young and old"
"Full of laughter and romance, Cinderella …fills audiences with Christmas spirit and is a great evenings entertainment"
"…enthralling"
Wilts & Gloucestershire Standard
"When the curtained opened to a sparkling Fairy Godmother flying onto the stage, we knew we were in for an evening of traditional panto magic"
"We loved Cinderella. It had all the ingredients for panto. It's a Christmas magic winner"
Gloucestershire Echo
"…a dazzling array of circus trickery"
The Stage
"Cheltenham's Cinderella is a five star winner"
Loving the Cotswolds
September Tide
"Phil Clark gives the play plenty of energy."
"A solid and intriguing end to the season."
The Stage
"Under Phil Clark's direction, this is a delightful snap-shot of a wider family's struggles in post-war rural Cornwall and beyond."
Eastern Daily Press
Sleeping Beauty
"No shortage of clowning around at the Cheltenham Everyman this Xmas, but commendably faithful story telling as well. Writer/Director Phil Clark is determined to tell the full story of the fairy tale"
The Stage
"You're guaranteed festive fun of the highest calibre"
Oxford Times
"The team, directed by Phil Clark do a splendid job adding new touches to the beloved old favourite. Unusually for modern Pantomime, the story telling is strong and constant"
Gloucestershire Echo
"Slick and highly enjoyable pantomime. This is Pantomime that will bring out the inner child in you"
Cheltenham Standard
"Silliness , slapstick and the kind of good old family fun we Brits all know and love"
Gloucestershire Gazette
"A quality cast make this an action packed treat from the word go…… My family agreed we haven't laughed so much in ages"
Stroud News
Snow White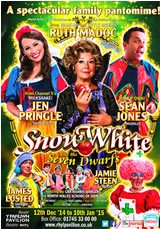 "Guaranteed to have you laughing in the aisles from start to finish. The Pavilion and UK Productions pull out all the stops to provide local audiences with a memorable experience and this year is no exception"
Rhyl, Prestatyn & Abergele Journal
"A thoroughly entertaining performance………one for the whole family to enjoy. A great opening night that had this magical ability to lift any mood and put the softest of grins on the most manliest of men"
Live Review
"Snow White and the Seven Dwarfs is up there with the best I've seen"
Daily Post
NOISES OFF
"Michael Frayn's well-known award-winning play is always worth seeing again, and this production is as good as any with meticulous filming and slick acting throughout the play, leading in to virtually non-stop laughter."
Eastern Daily Press
"What it requires, other than a cast with split second timing, is ensemble playing. That's probably why all the best productions that I've seen tend to be those which use a group of actors accustomed to working with and off each other in a company. Phil Clark's production scores highly"
What's On Stage
"…nothing short of triumphant. With standing room only this is a much deserved winner for Suffolk Summer Theatre"
InSuffolk
CAITLIN
"An intense, intimate, and gut- wrenchingly honest portrayal of a woman who — as she laments herself — will forever be known as Mrs Dylan Thomas: the genius that everyone forgave."
South Wales Evening Post
Horrible Histories: Horrible Christmas
"The action-packed festive adventure is a romp from start to finish. Live on stage the concept of highlighting history's' most gruesome bits comes to life fabulously. There are no weak performances in the entire cast"
Derby Telegraph
"This is a wildly funny show. Adults get as much fun out of this as the children, if not more"
The Stage
"Guaranteed to put a smile on your face"
Burton Mail
"A mad rollercoaster of a production. Horrible Christmas has everything you need for a good night out"
Derbyshire Artsbeat
Aladdin
Panto in Cheltenham Christmas 2013
"
This year's glittering production of Aladdin is yet another Everyman triumph. The clever script, as usual, included a liberal dose of local quips"
Gloucester Echo
"By bookending his panto with scenes from the original Arabian Nights, thus bringing the story-telling Scheherazade and Haroun-al-Raschid, Phil Clark places Aladdin in a neat context which takes it back to its original source"
The Stage
"Aladdin at the Everyman Theatre in Cheltenham proved to be another hit. Its another great performance from everyone involved and a fabulous show for the whole family to enjoy"
Explore Gloucestershire
"The Everyman Christmas panto is another triumph, a joy to watch from start to finish"
Cheltenham Gazette
"The strength of this production lies in the quality of the cast, with not a dud note between them………this is everything you expect from a panto and more"
Stroud News
Horrible Histories: Awful Egyptians
Australian Production with Australian Actors. Tour of Australia 2014
"You can't but be won over by the enthusiasm. It never feels like it commits the worst of School Holiday Entertainment sins according to kids "being educational".
Your kids (and possibly yourself) will potentially walk away from the experience with a thirst for more knowledge about Ancient Egypt
This show is a lot of fun and the theatrical equivalent to chasing your sister around the living room with a rubber spider"
Perth Culture
"Horrible Histories: Awful Egyptians is horribly hysterical and awfully awesome!
Director Phil Clark delivers a very clever and extremely funny show.
These extremely talented performers know just how to work an audience of children and adults alike – not an easy task."
Glam Adelaide
Horrible SCIENCE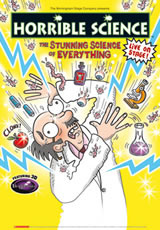 "The effects were brilliant, the cast were spot on, and we learnt plenty about the parts of science that children really want to know about but teachers are seldom allowed to pass on. You see the sheer joy that comes from being in a theatre surrounded by young screams of joy and, yes, unbridled fear is one that's going to stay with me for probably longer than the ache in my ribs I'm currently experiencing"
Cotswold Life
Horrible Histories: RUTHLESS ROMANS
"Ruthless Romans certainly delivered everything it promised with children even getting up to dance along at one point"
Bahrain Daily News
Horrible Histories: Awful Egyptians
"I recommend it for kids who read or watch Horrible Histories. I also recommend it for kids who don't mind a bit of blood and gore"
Time Out, Sydney
"There's something enjoyable in this show's straightforward attack on the funny bone"
The Sydney Morning Herald
DICK WHITTINGTON
Lovely fresh production. Tweedy the Clown….matchless
Pam Ayres on twitter
"This is a purrrfect Christmas show"
Wiltshire and Gloucestershire Standard
"Another great success as the trend of great pantos at the Everyman Theatre continues. We have to say that we thought it was the best panto yet"
Explore Gloucestershire
"Living up to expectations for yet another year running at the Everyman Theatres Dick Whittington was indeed the cats' whiskers and offers an umissable family night out"
So Gloucestershire
"A cast of talented professionals"
The Stage
SLEUTH
"This production in the hands of director Phil Clark is thoroughly entertaining"
East Anglian Daily Times
"Clark exploits the script to the full, building the suspense through its series of twists and turns to a delicious climax"
"A top notch thriller brilliantly directed by Phil Clark"
Eastern Daily Press
Horrible Histories: The Vile Victorians and The Terrible Tudors
"Yet another historical hit…"
British Theatre Guide
"Head choppingly brilliant…a great piece of theatre"
Public Reviews, The Curve Leicester
"It comes as no surprise that history can be horrible, but it is rarely this much fun"
Culture of Northern Ireland, Belfast
Write Me A Murder
"Every summer season needs at least one good murder. This is it…Director Phil Clark keeps the pace of twists and turns going and the final comeuppance is satisfying and timed perfectly"
Eastern Daily Press
"Knott's ingeniously devised play is full of unexpected twists and turns and in the hands of director Phil Clark, grips the attention throughout"
East Anglian Daily Times
Horrible Histories: The Awful Egyptians and The Ruthless Romans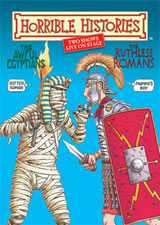 "This is live entertainment at its best"
Back Stage Pass
"At times it does look like you are watching a 3D film, with the actors engaging with the film, and it looked stunning"
Back Stage Pass
And A Nightingale Sang
"This was flawless theatre – impeccably acted,beautifully lit, perfectly paced"
The Stage
"Phil Clarks staging for the opening production in Jill Freuds annual summer theatre season in Suffolk is with compassion and affection"
What's On Stage
Skellig by David Almond, Broadway NY
"Magnificent"
New York Times
"This is magical realism at its best. Director Phil Clark has created moments of lyrical transcendence side by side with utter naturalism. A perfectly wonderful production"
Woman Around Town, New York
"A skilfully cohesive production……Phil Clarks' wonderfully fluid direction…..absolutely astounding".
Backstage.com, New York
"Phil Clark directs with fluidity and imagination"
Forbes on Film & Footlights, New York
The Firework-Maker's Daughter
"Phil Clark's production finds an ingenious way to stage the final firework competition"
The Guardian
"Ingenious"
The Stage
"Directed by Phil Clark it sparkles, fizzes and explodes. The audience…were transfixed "
Primary Times
"The whole family will love this production. It has everything"
Explore Gloucestershire
Dangerous Obsession
"fully deserved the roaring ovation from a first night audience"
East Anglian Daily Times
"uniformly terrific….fast paced production….."
East Anglian Daily Times
Danny the Champion of the World by Roal Dahl
Main Stage and No 1 National tour
"Phil Clark's production must be the most enjoyable children's play currently on tour. Not only that but adults will find that it's one of the most enjoyable productions for any age currently on tour"
The Stage
"…as fine a piece of theatre of young peoples theatre as one could hope to see"
www.theatre-wales.co.uk
"…theatrical colour, real emotional depth and good old-fashioned fun….watching an audience of young people respond positively to a piece of live theatre is always a joy"
South Wales Evening Post
"Phil Clark's production is touching without being twee, moral without being priggish, magical yet earthy; and it's genuinely suspenseful too"
The Times
"…stirring, exciting and refreshingly unsentimental"
The Times
Educating Rita by Willy Russell
Main Stage
"…a particulary first class production"
Metro
"An outstanding production of a modern classic. Popular theatre at its best"
Western Mail
"A great play given a great production. A fine achievement for Phil Clark"
www.theatre-wales.co.uk
The Stories of Hans Christian Anderson by Mike Kenny
Main Stage
"The imagination of this nineteenth century writer combined with the modern writing talents of Mike Kenny and the pitch-perfect direction of Phil Clark make this a performance that the whole family will enjoy"
South Wales Echo
"The cast of eight's ensemble playing under the skiful direction of Phil Clark is admirable"
The Stage
"Watching the performance is to witness a kaleidoscope of song, speech, dance, and music at a pace that maintains interest and excitement"
The Western Mail
"They bring a tremendous energy to the production and successfully create worlds within worlds"
The Guardian
Voted one of the top five theatre shows in Britain. Xmas 2006
Benedict Nightingale, The Times
Voted in the top 50 things to do at Xmas 2006
The Observer
"Mike Kenny's The Stories of Hans Christian Andersen brilliantly directed by Phil Clark was an absolute delight to see. In all respects it deserves an excellent rating…The production was an unqualified success which deserves the highest praise possible"
Arts Council of Wales
The Happy Prince
by Oscar Wilde, adapted by Phil Clark
Studio Theatre and National Tour
"This hour long play, adapted for the stage by Phil Clark, has everything that a three to six-year-old child could need in an introductory visit to the theatre"
South Wales Argus
"Celebrated director Phil Clark has successfully adapted The Happy Prince"
Buzz Magazine
"What a happy show. Adapted from the Oscar Wilde fairytale by director Phil Clark, this staging is aimed at three to six-year-olds. Without even a hint of playing down, it scores a direct hit"
The Stage
Skellig by David Almond
Birmingham Stage Company, National Tour and Broadway NY
Magnificent
New York Times
This is magical realism at its best. Director Phil Clark has created moments of lyrical transcendence side by side with utter naturalism. A perfectly wonderful production
Woman Around Town, New York
A skilfully cohesive production……Phil Clarks' wonderfully fluid direction…..absolutely astounding.
Backstage.com, New York
Phil Clark directs with fluidity and imagination
Forbes on Film & Footlights, New York
"Phil Clark's brand new production of this wondrous and multi-layered story is riveting"
The Stage
"It's seamless sophisticated theatre"
Birmingham Post
"Let's cut to the chase – this is simply an amazing piece of theatre"
Solihull Times
Horrible History of World War One and Two
Birmingham Stage Company National Tour
"Clark's skilful adaptation and direction makes this an informative and enjoyable experience for adults and children alike"
The Stage
"A show that is quite unlike anything kids get at school – but must be worth a fortnight of history lessons"
Manchester City Life
"A startling, haunting, beautifully staged production"
Bradford Telegraph and Argus
"Horrible, yes, but thankfully not trivialised theatre"
The Times
Aladdin
Cheltenham Everyman Theatre
"…this excellent show, which is expertly directed by Phil Clark"
The Oxford Times
"Phil Clark's effervescent seasonal offering scores strongly in the opinion polls"
The Stage
"Aladdin , directed by Phil Clark is sheer joy. As slick and colourful and exuberent as the best of today…The essence of Pantomime is fun personalities projecting and connecting over the footlights, and this show has them in droves"
Cheltenham Echo
The BFG by Roald Dahl
Royal and Derngate Theatres Northampton with Firey Light National No1 Tour
"This production of THE BFG sees the words on the page electrifyingly brought to life on the stage, totally captivating the audience"
The Stage
"Big, Friendly and a Giant success…"
Birmingham Post
"You won't see a better family show this year…"
Birmingham Post
"Another great achievement from a director with a fantastic track record…"
Birmingham Post
"…a fine example of theatre for young people"
The British Theatre Guide
Dick Whittington
"The Everymans' Dick Whittington had them enthralled….it was a screaming success"
The Gloucestershire Echo
"….as stylish as any regional pantomime could desire"
The Stage
"voted number one top theatre"
Benedict Nightingale. The Times
Sleeping Beauty
"….this production gets the balance just right….a top performance"
The North Wales Visitor
"The show effortlessly combines charm, heart and humour, with high production values….What marked this pantomime out from others was the relationship between the cast and the feeling that each character was as important as the other – there was no star just performers wanting to entertain"
North Wales News
"This beauty of a pantomime is as polished and funny as the very best"
STROUD NEWS AND JOURNAL
"Family-friendly pantomime is back bigger,better and funnier than ever"
CHELTONIAN
"Sophisticated sets,magical happenings and familiar,well performed songs, this show was a real beauty"
PRIMARY TIMES
Horrible Science
"In a special effects tour-de-force, bacteria, electricity, body functions and gravity came spectacularly to life as a giant screen and 3D 'boggle glasses' had you diving to avoid a hail of disgusting creatures and objects sallying forth into the theatre. It had to be seen to be believed"
Blackpool Gazette
George's Marvellous Medicine
"Clark's staging enters into the quirky, fantasy world of the story with aplomb and an enormous sense of glee"
The Times
"An example of how to engage an audience's attention and keep it right to the end of the show. And beyond the theatre's doors"
Whats On Stage
"Gets the ear-splitting, roof-raising response it deserves"
The Stage
"It's absolutely wicked and not just for the children"
The Stage
"Phil Clark's amusing, entertaining, exciting and magical show goes from strength to strength"
York Press
Cinderella
"one would not have wanted it a moment shorter. Well done to director Phil Clark and his whole team"
OXFORD TIMES
"This is good old fashioned panto"
THE STAGE
"Cinderella is one long joyfull party……Phil Clark's attractive production"
CHELTENHAM ECHO
Everything Must Go by Patrick Jones
Main Stage,Tour, 4 weeks Lyric Hammersmith
"Voices the feelings of a whole generation…Jones' prose poetry can have a mantra-like power and musical rhythms that Phil Clark's actors handle with charismatic assurance"
Daily Telegraph
"Remarkable"
The Stage
"Director Phil Clark and designer Jane Linz Roberts have collaborated to create a bleak, macabre anti-wonderland in which the set pieces are meticulously staged"
The Independent
"Phil Clark's production has moments of breathtaking beauty and coal black humour"
Independent on Sunday
Mental by Jo Brand and Helen Griffin
Assembly Rooms Edinburgh, Tour
"Director and writers transform the chair bound action into a dynamic virtue……
Definitely one of the musts"
The Stage
Caitlin by Mike Kenny
Edinburgh Festival, New York, Tour
"Director Phil Clark and writer Mike Kenny wore a spellbinding, absorbing piece of work, both electrifying and illuminating"
Edinburgh Evening News
The Laramie Project by Moises Kaufman Studio
"Truly memorable, avoiding potential melodrama. Clark always at his best"
Western Mail
Flesh and Blood by Helen Griffin
Main Stage, Tour, Hampstead Theatre
"The play is never for a moment didactic, and Phil Clark directs the four actors with a sense of blistering precision and excellence"
The Sunday Times
"Phil Clark's production has a boisterous energy"
London Evening Standard
"Phil Clark's confident production with a first rate cast"
Western Mail
The Borrowers adapted by Charles Way
Main Stage
"Sharp, uncompromising direction by Phil Clark this is a multi-layered theatrical delight"
Western Mail
"Phil Clark's new production…is in another league. It's sensational, a brilliant incorporation of highly theatrical style with moving, human – scale storytelling"
ReviewsGate.com
"An exquisite theatre achievement, a perfect combination of the skills of a wonderful original idea"
Theatre in Wales Web site
Merlin and the Cave of Dreams by Charles Way
Main Stage
"Pure Theatre"
Western Mail
"Outstanding triumph"
South Wales Echo
"Warmth, charm and excitement in Artistic Director Phil Clark's production…a top of the tree production"
One Dark Night by Mike Kenny
Studio and National Tour
"Phil Clark's admirable production – itself an invitation to an imaginative voyage in theatre – is first-rate young peoples theatre"
ReviewsGate.com